Logicbroker Reconnects Your Mismatched SKUs
By Logicbroker | October 29, 2019
Picture this: you're adding new inventory to your website for the upcoming holiday season. The only thing is, you forgot to set up the same SKUs in the Logicbroker platform. Or, if you're a retailer, your supplier may not have properly matched their inventory products. In the past, you would have to perform the near-impossible job of going back into your inventory and finding the correct SKU. Now, Logicbroker has made it easier than ever to match the correct SKU with the correct product.
With Logicbroker's new update, users will not only get to see if an order failed, but will get a detailed reason. In this instance in the photo on the right, we see the Logicbroker portal has recognized that the proper merchant SKU was not mapped.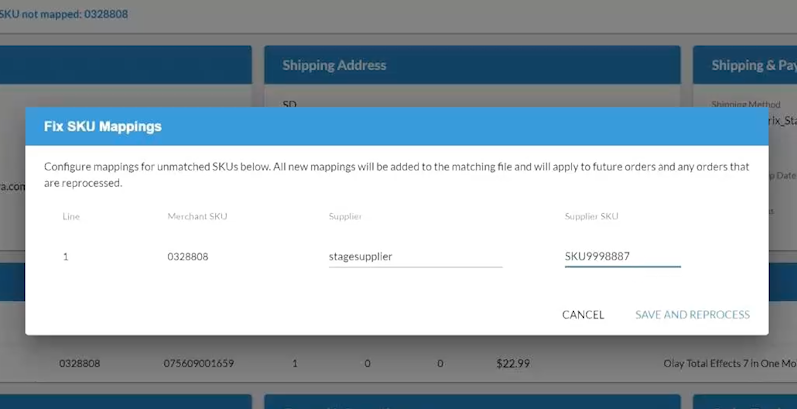 Once the mismatched SKU is located, it only takes a few seconds for Logicbroker to help rectify the issue. The image on the left showcases the preceding steps once a mismatched SKU is discovered. At this point, all the user has to do is point to the right supplier with the correct SKU in order for the problem to be solved.
With this new update, Logicbroker can save its users hours in manually matching SKUs. The animation below shows just how quick and simple this process is. While in the affected order, users can simply navigate to the "Match SKUs" option in the "More Actions" tab and replace the incorrect SKU with the proper one.  Especially with the holidays approaching, this time-saving update can save tens of thousands of dollars in fixing inaccurate orders.
Interested in learning more about how you can save time automating your EDI and drop ship process? Set up a demo, or contact us today.
Ready to take the next step towards Supply Chain Excellence?
Fill out the form below to get in touch with our team: